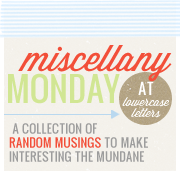 I am going to try to start participating in Miscellany Monday every Monday. It will make me a little more motivated. I like to think of myself as a space cadet...or Pat likes to call me that, so this whole miscellaneous thing really fits the bill for me.
1. Sleep?
Where has it gone? Liv is a complete mess in this apartment. She was up at 5:30am this morning and I could not get her back to sleep. It left for a very frustrated mama. I have a hard time regaining my patience at that time in the morning. I felt a little more normal after a cup of coffee though. I'm currently on my second cup and going strong. I definitley need some new advice on this. I stated before that I'm taking away any bottles in the middle of the night...its my first step of eliminating bottles altogether. So, normally if Liv woke up at an ungodly hour, such as 5:30am...I would give her a bottle. This is where I'm stuck. HELP. and moving on...
2. Auntie!
I'm going to be an Auntie for the first time! My SIL, Leslie is pregnant :). I am so excited! I don't have any baby fever whatsoever, so I am happy that I can be an Auntie. I will spoil my little niece or nephew's socks off and then hand him/her back...ahhh what a nice thought haha.
3. Mulligatawny
I love love love Pioneer Woman's website. I use recipes from there all the time. Like last night, I made her
alfredo sauce
(Les and I threw in some fried mushrooms, proscuitto, and served asparagus with it, YUM). I'm also a huge fan of her
cajun chicken pasta
, I've also made her
chile con queso
recipe, and
nantucket cranbery pie
. There is probably more that I've made, but when checking her
blog
out today, I found a recipe for
Mulligatawny soup
! The first time I had this was years ago when I waitressed at the Upfront and Co. in Marquette. It is so good and I'm definitley making it tonight. If you like finding new recipes, check it out. I love how she includes detailed pictures and descriptions of each step. I like knowing what my stuff is supposed to look like along the way :).
4. Giveaway
My sister over at
tutte belle
photography is doing a mini photoshoot giveaway. It closes tomorrow, so if you live in the upper peninsula area, or close by, or even going to travel there at some point in the near future, I would highly recommend that you sing up! All you have to do is "like" her facebook business page and leave a comment on
THIS
post.
5. Santa
My child, like so many around this age, totally freaked when she saw Santa. I have photos, but I don't have a scanner. I just have pictures of Liv naively waiting before seeing Santa. As soon as we rounded the corner and saw the old man, Liv started backing up into me. There wasn't a moment of calm. Oh well, its the classic santa picture.
Happy and unsuspecting.
Everything took place under this ginormous tree. It was soo pretty. It was perfectly decorated and there were about 10 christmas trees under the giant tree. You had to see it to understand its awesomeness.
la la la la....happy happy for another 3 minutes or so :)