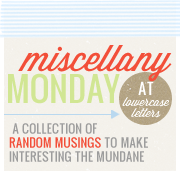 1. on a mission
The mission is to kick the bubba. Day one is today. Liv is currently switching between crying and screaming. I laid her down for an early nap because she woke up at 6am today. Normally, I would give her 3oz. of milk and put her back to bed....not anymore I guess. So, we will see how it goes. Also...she WILL NOT drink milk out of a sippy cup. I do offer it to her though. our new routine will include reading a few books before nap/bedtime and she will get a sippy of warm milk, whether she drinks it or not. I think right now she think milk only belongs in a bottle so eventually I hope she will drink it out of a sippy cup.
(update: Liv fell asleep, sans bubba, after 30 minutes of her crying fit she was having! WIN)
2. goals
I made some
goals
last week

and so far so good. We didn't go swimming last week, but we went to the zoo. I am going to bring Liv swimming this week. I want to bring her when her dad is playing drop in hockey so we can see him after. She will think that is pretty cool that her dad is playing "hockeeey!". I also went to the gym 3 times, did laundry every other day, and went on a date! I have yet to re-style my dresses...but they are sitting in my craft stuff for when I find the time.
3. piano bar
Speaking of my "kind of" date. We went to a friend's apartment on Saturday, and a new friend (Katie) and I walked to a piano bar while the boys watched the fight and hockey game. It was SO much fun. I had never been to one before and it definitley didn't dissapoint. I'm so removed from the bar scene that I definitley suffered yesterday but it was well worth it.
4. crafting
I've been doing it for awhile and I really really want to start an online shop. I am just not sure how to do it while in Canada. I am really contemplating it though. I need something to do with my time, which is mostly what it would be about. I could use some advice with this. I have looked into etsy, big cartel, and storenvy...all have their perks, but it seems like etsy gets the most exposure and might be the best to use when starting out.
Here are a few pictures of some things I have made currently and in the past. I think my main focus would be baby/toddler headbands and clippies, maybe some children's vintage clothing, and I have a few other ideas also.